#Mutmachleute – A Little Story
How did the project #Mutmachleute come about and who is behind it?
Time and again, during lectures and interviews, we are asked how we came up with the idea of doing public relations work on mental illness – and in a rather unusual way. Namely, by focusing on the positive peculiarities of a mental illness. Just in a courageous way.
Diary
Spring 2017: I contact Anna Starks-Sture. She is a publisher and specializes in psychological counsellors. After a lively exchange, we both realize relatively quickly that we have a common and clear goal. People with mental health challenges must be given a voice because they are still exposed to prejudice, disapproval, disdain and stigma. We both know this perspective from our own experience.
August 2017: We want to do something! Just what? Over coffee and cake we brainstorm together with Anna's partner Michael and my colleague Max. For the first time, take a summer holiday and think about everything else.
September 2017: We could release a book on the subject. Why are people so often stigmatized, why do they not dare to talk about their challenges? But we don't just want to talk about the negatives, but above all about the positives! Do we want to do interviews? With photos? How do we attract as many people as possible to tell us about ourselves? And: who should pay for this?
October/November 2017: Of course, we have to do it online. So that we reach a broad mass. But we do not just want to reach out to the public by saying: look, these are PEOPLE, not DIAGNOSES! We also want to reach out to all those who are not doing well, who are in crisis. We want to encourage them and show them positive experiences and ways of other people affected. And last but not least, we also want to give a voice to relatives and experts! We want to educate, support and encourage! How do we do that now?
November 2017: A name has to come for the platform on which we want to go online. Several ideas flow in, none of them is really crisp. Then it pops: MUTMACHLEUTE! It is not only we who encourage, but everyone out there who is supposed to show face and encourage others. We are all courageous people!
December 2017: Anna is offered a double-page article about our project – which is still in its infancy – in Miles Magazine. The deadline: January 28, 2018. Now we have to give gas. Anna designs the questionnaires, Max and I put the homepage online and develop the first graphics.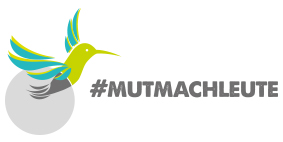 January 2018: The hummingbird is born. It will be the hallmark of #Mutmachleute.
January 26, 2018: The page goes online on time. Author and blogger Nora Fieling as affected, her partner and I publish the first contributions as pilot contributions. Let's see what happens.
Just one day after the launch of the site, the first people who want to join us are already in contact. We can hardly believe this happiness!
Spring 2018: More and more people are showing their faces and reporting on their journey. The response we receive is overwhelming.
We are invited to guest lectures and to the mental health control association in the district of Starnberg. The (local) press is also beginning to pay attention.
There is more and more work. The three of us carry out the project on a voluntary basis, on the evenings, weekends, and also lead a private life. We are as happy as we are a little overwhelmed – with the daily work as well as with the responsibility that lies with us. We maintain the homepage and develop it further, edit and moderate the articles, correspond with the authors, work in the graphics and press, have to finance the whole thing privately. How can we get the costs financed and how do we secure ourselves legally? How can we be seriously perceived by the public in the long term?
June 2018: We found the non-profit association Mutmachleute e.V. At the first general meeting we are already nine people, later on there will be more. Everything is done and handled properly – association law and taxes are a science in itself! August 2018: Recognition of the charitable nature of our association.
Autumn/Winter 2018: On some days, several posts come to our mailbox. More and more invitations are being made to lectures and trade fairs. Small donations enable us to finance gift items for mutiny makers: notebooks and blocks and small buttons.
2019: A year later, the project is already in many ways. The
press
is now showing us a lot of interest. We are proud of articles in the
Süddeutsche Zeitung
and
Psychology today
. Invitations to Creative Nights, radio broadcasts, podcasts, interviews in the press are becoming more and more common. We are a bit proud! And win prizes: June 2019: Award ceremony of the Lions Social Prize; November 2019: Award Ceremony of the Green Wanninger
Summer – Autumn 2019: How can we provide even more support to those affected and their families? Again and again our readers want to get in touch with our contributors. There seems to be a need for more intensive exchanges. But how can we ensure a protected and, if desired, anonymous exchange? Especially since we have to act according to the strictest data protection requirements. We are making plans for a self-help forum. How can this work, that people can exchange information with each other, but not openly and unprotected in the relevant forums or on Facebook? We are developing a concept and will receive support from the AOK in the autumn for the financing of the self-help forum.
September 2019: Launch of the forum after two months of technical work and testing phases.
2020: In the meantime, we have received many valuable contributions from those affected,
and professionals.
We also have interesting and touching articles in our section
#Denkstoff
which we bring to the public via the platform. And there are more and more. We are happy about every single story. And we already have the feeling that we, as courageous people, have been able to achieve something and we can continue to do it – on our way to destigmatizing mental illness. And, of course, we have plans for further action. We are all on the road to success together – stay excited!
We rely on donations for our (honorary) work, and we are happy about every little one that supports our work!
How can you support our work? Easily go to the
Donations
page. Thank you!
Donations via paypal
Via our paypal account you can use all common payment options (credit card, instant bank transfer, etc.). Please take into account that, in contrast to the above variants, there are unfortunately costs for the association. This amounts to 1.5 of the donated amount + EUR 0.35 (as of May 2018).